Another highly rated solution (according to Gartner), Trend Micro's Cloud App Security is more than just an email security product. It goes beyond email, protecting all the cloud-based enterprise apps your business has come to rely on (including Microsoft 365 apps, Box, Dropbox, and Google Drive).
These cloud apps themselves are secure, but users can transmit malicious items (knowingly or innocently) over these apps, creating many of the same threat vectors common in email.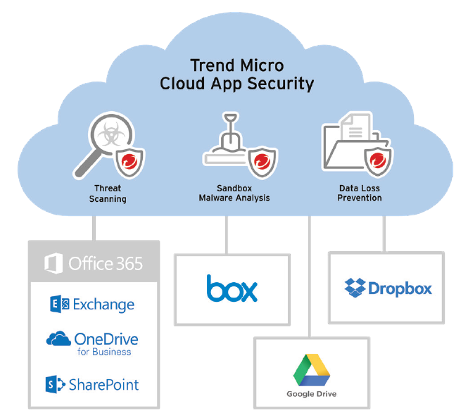 (Image courtesy of Trend Micro.)
Trend Micro Cloud App Security protects your cloud-based email as well as connected cloud apps. And it protects against unknown threats as well as known ones, thanks to the advanced patternless techniques and Ai-enhanced message scanning.
Trend Micro doesn't disclose its customers, but with over 135 verified reviews on Gartner, it has a significant track record of high performance.