Financial Advisor Workstation Features and Functions
$399 – $999
Product Description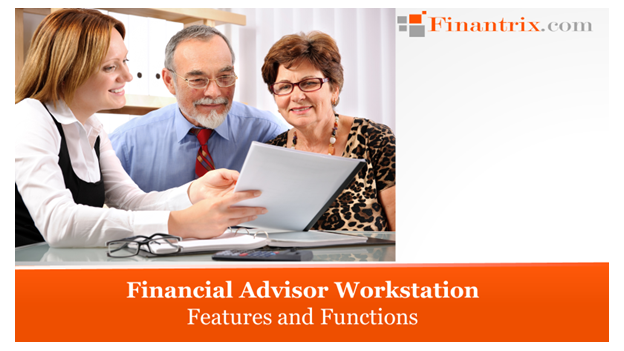 Financial Advisor Workstation Features and Functions is a deliverable which helps firms in reimagining and transforming their advisory systems. The artifact comprises of a conceptual vision of the financial advisor toolset and a list of critical needs and wants that enable capabilities that support an advisors' workflow effectively and efficiently. In particular, the advent of the digital era with a slew of sophisticated technologies and the emerging Fintechs have changed the financial advisory landscape. A future-proof financial advisor workstation should incorporate cognitive technologies and digital paradigms to empower and enable the advisors.
What are the Financial Advisor Workstation Features and Functions deliverable?
The deliverable is a spreadsheet with about ~120 essential features and functions of a best-in-class financial advisor toolset.
The deliverable also features a business context diagram of a conceptual vision of the financial advisor workstation.
The Financial Advisor Workstation features are a logical and hierarchical grouping of all essential capabilities necessary to transform the function in the digital age.
What does it not include?
Detailed technical and architectural features.
No detailed business requirements. (There is a separate deliverable which features transformation business requirements.)
Why is Financial Advisor Workstation essential for wealth management and broker-dealer firms?
Today, the financial advisory services business in the throes of change. The rise in wealth across the globe, the erosion of trust from the financial crisis, the competition from upstart Fintech startups, and increasing regulatory burdens are all remaking the role of financial advisors.
To make the financial advisors productive and practical, a well-conceived and purpose-built financial advisor workstation that has digital and cognitive technologies a strategic imperative for wealth managers and the broker-dealer firms.
What features and functions are a part of the Wealth Advisor Workstation deliverable?
The Wealth Advisor Workstation Features and Functions deliverable consists of about ~125 capabilities essentials to a best-in-class system. They encompass:
Acquiring, onboarding, and servicing a client
Profiling and planning
Managing assets and implementing solutions
Reporting
Practice management
Who should use the Financial Advisor Workstation Features and Capabilities?
Heads of advisor tools and technologies in wealth management and broker-dealer firms
Custodians who offer platforms to advisors
Technology leaders who are responsible for enabling the advisor workstation
Business and Enterprise Architects who envision the advisory workstation solution
Software vendors who want to know what the best-in-class constitutes
There are several financial advisor workstations in the marketplace.  Whether you should choose FIS Wealth Station or MorningStar Workstation or InvestCloud,  or some other workstation depends on what features you need. And Finantrix advisor workstation features deliverable helps make an informed decision.
Stipulations:
As the Financial Advisor Workstation Features and Functions List is a digital product, it is sold as-is, and Finantrix will not accept any returns
Depending on the size and complexity of your firm, the roles and responsibilities of advisors, some or all of the capabilities may not be relevant to you.
Consultants, who may wish to use the deliverable at several clients, have different terms and price.
Sold on an as-is basis and no warranties
This sale does not include implementation help or support. If you need professional services assistance, please contact us.
Please review our standard terms of service.
Got More Questions? Drop us a Line
Need Customization Help? Contact our Advisory Services
Financial Advisor Workstation Features and Functions
$399 – $999