Investment Management Business Capabilities Model
$999 – $2,999
Product Description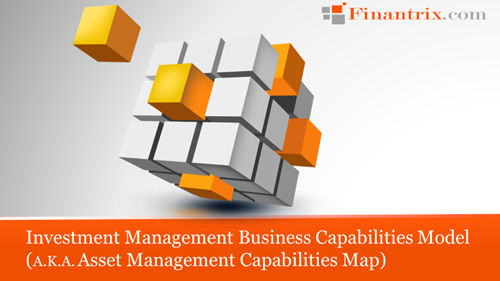 The Finantrix Investment Management Business Capabilities Model decomposes the investment management functions into multi-level and granular business capabilities. The investment management business capabilities model is a must-have tool for business architects, enterprise architects, business executives, technology leaders, and project teams at investment/asset managers to fathom the overall enterprise context. A prioritized list of investment management capabilities list will help drive technology enablement and enterprise transformation. The Investment Management Business Capability Map will function as an essential blueprint with a structurally sound and internally coherent list of business capabilities spanning all investment/asset management value chain aspects.
What is in the Investment Management Business Capabilities Model?
The Investment Management business capability map includes the following formats:
An Excel spreadsheet with the Investment Management (asset management) business capabilities list.
A PowerPoint format with the top two levels of the Investment Management capabilities represented in a nested visualization.
A Word document with the list of Investment Management business capabilities in a multilevel list format.
Capability definitions (Level 3)
Capability KPIs (Level 2)
BONUS: Several bonus files
The Investment Management Business Capabilities Model Use Cases
A business capabilities model is a foundational artifact in the business architecture continuum. The Finantrix Investment Management capabilities model captures and lists the end-to-end aspects of the overall functions with a detailed, multi-level capabilities list.
The principal advantages of capability modeling include, among others:
Capabilities act as a common language between business and technology and foster deeper alignment
Capabilities work as a glue – a structurally sound and internally coherent abstraction of business functions.
Business capabilities-centric roadmaps eliminate the typical issues such as ambiguity, redundancy, and replication and focus on capability evolution.
Juxtaposing capabilities and systems/applications provides a footprint analysis and can lead to better application portfolio rationalization decisions.
The Investment Management business capabilities model is a decomposition of up to three levels.
Created by investment industry domain experts, the investment management capabilities list is detailed, in-depth, and conforms to the construct of MECE (mutually exclusive and collectively exhaustive).
NOTE: Digital, Insurance, Retail Banking, Wealth Management, Prime Brokerage, and Alternative Investments are standalone and separate capability models. Even if they are referred to in the Core Investment Management Capabilities Model, the details are in their respective maps, which are different and standalone.
Similarly, all the Shared Services such as Human Capital Management, Finance and Accounting, Procurement, Supply Chain Management, Marketing, and Business Intelligence are standalone capability maps.
Stipulations:
As the Investment Management Business Capabilities Model is a digital product, Finantrix will not accept any returns.
Depending on the size and complexity of your firm, the functional areas, and service lines, some or all of the capabilities may not be relevant to you.
Consultants, who may wish to use the capability model at several clients, have different terms and price.
Sold on an as-is basis and no warranties
This sale does not include implementation help or support. If you need professional services assistance, please get in touch with us.
Please review our standard terms of service.
Got More Questions? Drop us a Line
Need Customization Help? Contact our Advisory Services
Investment Management Business Capabilities Model
$999 – $2,999