Wealth Management Business Capabilities Model
$999 – $2,999
Product Description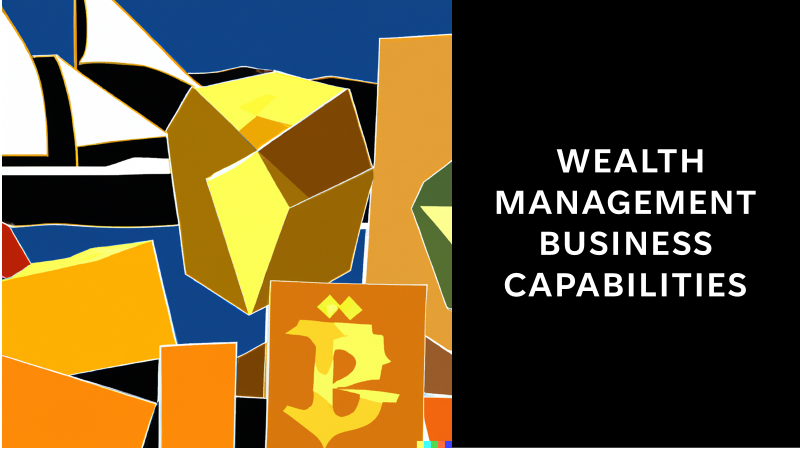 Finantrix Wealth Management Business Capabilities Map decomposes the wealth advisory business into multilevel and granular business capabilities. The wealth management business capability model is a must-have tool for business architects, enterprise architects, business executives, technology leaders, and project teams at wealth managers to fathom the overall enterprise context. A prioritized wealth management capabilities list will help drive technology enablement and enterprise transformation. The Wealth Management Business Capability Map will function as an essential blueprint with a structurally sound and internally coherent list of business capabilities spanning all wealth management value chain aspects. The wealth advisory capabilities matrix comprises 630 capabilities across three levels.
(NOTE: As the wealth management business capabilities map is a digital product, we do not accept returns or issue refunds. Please read the product description carefully before purchasing the product.)
Watch a Product Video
The wealth management industry is in the throes of massive disruption. Competition from startups, and tech giants, rising customer expectations, increased regulatory burdens, and margin compressions are some factors forcing wealth managers to rethink every aspect of their business. A wealth management business capabilities list helps get a holistic perspective of the wealth value chain and addresses the lacunae elementally. In addition, Tech enables operations to build a sustainable competitive advantage.
The Strategic Imperative for Wealth Management Transformation:
Wealth management firms are facing significant internal and external challenges that necessitate transformation. The internal challenges include legacy technology systems, siloed business units, inefficient processes, and talent shortages. External drivers include changing client expectations, regulatory requirements, and increased competition from digital disruptors. As a result, wealth management firms must adapt and transform their business models to meet these challenges and stay competitive.
Many firms are turning to technology to transform their business operations and improve the client experience. For example, digital transformation efforts can help wealth management firms streamline operations, automate processes, and provide clients with more personalized and efficient services.
Challenges in Wealth Transformation Efforts:
While the need for transformation is clear, many wealth management firms struggle to implement successful transformation efforts. There are several reasons why transformation efforts fail or fall short. One common reason is a lack of alignment between business strategy and technology investments. As a result, firms may invest in new technology without clearly understanding how it will support their business goals.
Another challenge is resistance to change from employees. Transformation efforts can disrupt established workflows and require new skills, which can be difficult for employees to accept. This resistance can slow down the transformation process or prevent it from being successful altogether.
Inadequate planning and execution can also lead to transformation failures. Firms may lack a clear roadmap or fail to allocate sufficient resources to support the transformation effort. Successful wealth management transformation efforts require a clear understanding of business goals, careful planning and execution, and effective change management and communication.
To ensure successful wealth management transformation programs, business architecture can help create a structural blueprint for a shared understanding between all stakeholders. Wealth Management Business Capabilities can capture the essence of what the business does structurally and foundationally.
What are the deliverables and format of the Wealth Management Business Capabilities Map?
The wealth advisory capabilities matrix comprises 630 capabilities across three levels. The product includes the following deliverables and formats:
An Excel spreadsheet with the list of wealth capabilities.
A PowerPoint format with the top two levels presented in a nested visualization.
A Word document with capabilities in a multilevel list format.
Wealth Management Capability KPIs (Level 2)
Wealth Management Capability Definitions (Level 3)
Plus, bonus files.
| Common Feature | What It Does |
| --- | --- |
| Project planning and task management | PMS helps users describe project scope, set up due dates, design, monitor, and complete crucial tasks and deliverables. |
| Scheduling | Calendar capabilities let you schedule projects. |
| Multi-user interface | Allows multiple users with separate logins and permission settings to monitor their progress and others' work, too. Users can also share and follow crucial info on the platform. |
| Resource management | Project managers can distribute resources, such as personnel and inventory. They can also account for the allocation of these assets. |
| Risk management | Risk management allows users to identify possible project risks and take steps to fix the issues early. |
| Document management | PMS enables team members to save docs in a central place, including sharing them with key members and following any changes. |
| Billing and invoicing | Your business can manage all its accounting processes. |
| Budgeting, expense, & time tracking | This function is best for companies dealing with colossal once-off projects, such as manufacturing, construction, and professional services. PMS lets them budget for each project, track its expenses, etc., making it easy to match budgets, bids, costs, and revenue with the relevant projects. |
What is the Value of the Wealth Management Business Capabilities Map?
A business capabilities map is a fundamental and foundational entity in the business architecture continuum. The Capstera Wealth Capabilities model encapsulates the essence of the business of wealth management functions with a detailed, multilevel capabilities list. The wealth management capabilities model is an integral part of the business architecture. Along with value streams, a data model (which are not a part of this product deliverables) and an applications/systems inventory will allow for valuable views and viewpoints.
There are several benefits from business capabilities, including, among others:
Foster alignment between business and IT using capabilities as an everyday language.
Capabilities are structurally sound and internally coherent abstractions of business functions.
A capability-based roadmap eliminates redundancy and replication and focuses on capability evolution.
Juxtaposing capabilities and systems/applications provide a footprint analysis and can lead to better application portfolio rationalization decisions.
Created by business architects and wealth management domain experts, the wealth management capabilities model is detailed, in-depth, and conforms to the construct of MECE (mutually exclusive and collectively exhaustive).
NOTE: Digital, Insurance, Retail Banking, Asset Management, and Alternative Investments are standalone and separate capability models. Even if they are mentioned in the Core Wealth Management Capabilities Model, the details are captured in their capability maps, which are different and standalone.
Stipulations:
As the Wealth Management Business Capabilities Model is a digital product, Finantrix will not accept any returns
Depending on the size and complexity of your firm, the functional areas and service lines, some or all of the capabilities may not be relevant to you.
Consultants, who may wish to use the capability model at several clients, have different terms and price.
Sold on an as-is basis and no warranties
This sale does not include implementation help or support. If you need professional services assistance, please contact us.
Please review our standard terms of service.
Wealth Management Business Capabilities Model
$999 – $2,999