Retail Bank Business Capability Model
$999 – $2,999
Product Description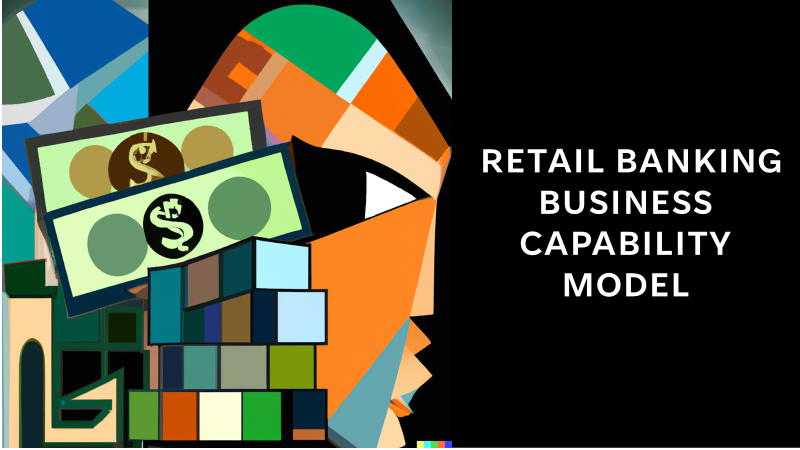 Retail Bank Business Capability Model
Finantrix Retail Bank Business Capability Model is a structured set of capabilities representing "What a bank does" and decomposed into foundational building blocks. The banking business capabilities are essential to business architecture and valuable in many ways. The retail banking capabilities model comprises 330 capabilities across three levels. The retail bank business capability model is comprehensive and customizable, allowing business architects to tailor it to their bank's unique needs.
(NOTE: As the Retail Bank Business Capability Model is a digital deliverable, we neither accept returns nor issue refunds. Please read the product description carefully before purchase.)
Watch a Product Video
Banks are in the Throes of Transformation:
Banks are under immense pressure to transform due to several reasons. One of the key reasons is the rapid pace of technological advancements. In addition, with the advent of new technologies, customers' expectations have also increased, demanding more digital services from banks. To meet these demands, banks must transform their legacy systems and adopt digital technologies that enhance the customer experience.
Another reason for transformation is the increasing competition in the banking industry. Fintech startups and other non-bank financial institutions have entered the market, providing customers with new and innovative financial services. Banks that fail to transform risk becoming obsolete and losing their market share. To stay competitive, banks must continuously evolve and innovate their services.
Moreover, regulatory compliance requirements have become more stringent in recent years. Banks must comply with various regulations and standards, which can be challenging with outdated legacy systems. Digital transformation enables banks to streamline operations, improve risk management, and comply with regulations more effectively.
Banks must transform to stay relevant, competitive, and compliant in today's rapidly evolving financial landscape.
Business Architecture and Business Capabilities as the Cornerstone of a Bank's Transformation:
For a bank to transform successfully, it is essential to establish a structurally strong foundation to support change and innovation over time. This is where business architecture and business capabilities come into play. Business architecture is the practice of creating a structured model of a bank's business, including its operations, capabilities, and systems. This model can help banks to understand how their business operates, identify inefficiencies, and develop a plan to optimize and streamline operations. In addition, by creating a clear picture of their business architecture, banks can better understand how different business units and functions interact and how changes in one business area can impact other areas.
Business capabilities encapsulate specific skills and resources that a bank needs to execute its business strategy successfully. They encompass everything from people and processes to technology and data. By defining and organizing their business capabilities, banks can identify gaps and redundancies and develop a roadmap to address them. This helps ensure that the bank has the necessary resources to execute its strategy and drive innovation over time.
Business architecture and capabilities provide banks with a framework to assess and optimize their operations, reduce costs, and drive innovation. By taking a structured approach to transformation, banks can build a foundation capable of supporting ongoing change and adaptation and position themselves for success in a rapidly evolving industry. (NOTE: The current product provides a comprehensive banking business capability model. It does not include other business architecture artifacts.)
What do we get when we buy the Retail Bank Business Capability Model?
The Finantrix banking business capability model takes a business's highest-level value chain activities and identifies level 1 capabilities. Then each capability pillar is drilled down into the logical next layer resulting in a consistent business capability model for a bank with structural integrity and internal coherence.
While Finantrix experts developed the bank capabilities with a retail bank in mind, it will also be helpful for credit unions, community banks, savings and loans, and other similar institutions with some modifications.
Retail Bank Business Capability Model Deliverables:
An Excel spreadsheet with capabilities in groups.
A PowerPoint presentation with the first two levels in a nested visualization.
A Word document with capabilities in a multilevel list format.
Capability Definitions (at Level 3)
Capability KPIs
Banking Transformation Guide
How should we use the Retail Banking Business Capabilities Model?
Business capabilities can form the elemental blocks for understanding a bank and embarking on a digital transformation.
Aligning funding to capabilities will result in strategic capabilities being funded appropriately.
A strategic capability analysis can quickly identify the strengths and gaps, thus allowing for a super corporate development strategy – mergers, acquisitions, and consolidations- and in post-merger integration on deciding which capabilities from which bank shall be the default choice.
Capability-centric roadmaps can provide a window into how the business teams intend to evolve the capabilities over time, rather than a siloed view currently offered by requirements tied to a project, not a cluster of capabilities.
A common language can foster a better understanding of business needs, thus enabling the IT teams to build/buy/integrate optimal technology solutions.
Stipulations:
We sell digital products, so Finantrix will not accept returns, refunds, or replacements. Therefore, please review the product description carefully before making a purchasing decision.
Depending on the various factors specific to your firm, the content and coverage may or may not apply to your situation.
Consultants, who may wish to use the templates and deliverables for several clients, have different terms and prices.
Sold on an as-is basis and no warranties
This sale does not include implementation help or support. If you need professional services assistance, please get in touch with us.
Please review our standard terms of service.
Got More Questions? Drop us a Line
Need Customization Help? Contact our Advisory Services
What are Business Capabilities?
Business capabilities are an abstraction of the underlying business functionality and express what a business does and can do.
There are several benefits a bank can derive by practicing the core tenets of business architecture and capability mapping. Here are a few:
Bridge the ever-widening business and IT chasm
Execute your strategy effectively by linking capabilities to strategic pillars
Identify gaps and white space opportunities
Minimize replication and redundancy
Avoid project silos by crafting future needs as capability-centric roadmaps
Influence the backend IT enablement with clusters of capabilities that can form a business service
Make vendor decisions on more structural building blocks of functionality
Will a generic business capability model fit our needs?
It is generic but purpose-built for a bank, encompassing core banking functions and transactions. Hence, based on banking activity sectors and the scope, breadth, and depth of services, somewhere between 60-90% of the Finantrix banking capabilities may fit your needs. Moreover, given this head starts, you can accelerate the rest of the capabilities and have a customized banking business capability model in a matter of days, not months and years.
Can we not build a Capability Map on our own?
Of course, you can! However, the question is whether you should. About 75-90% of the capabilities will look similar to other banks, with the rest of the divergence attributable to both stylistic and substantive reasons. So, why start from scratch and waste intellectual capital, time, and effort on something similar to many other banking firms?
What if we already have a capability model?
Congratulations! You are well ahead of several of your peers in the banking sector. You may still find the Finantrix banking capability model to cross-reference, validate, and plug the gaps in your design.
Who would use the Banking Business Capability Model?
Business architects – for defining the banks' functions and abilities in a common language
Enterprise Architects – as an input into overall enterprise architecture
Product Managers – to define capability-centric product roadmaps and products as clusters of capabilities.
Business Analysts and project managers – draft requirements anchored to capabilities and manage a project as a way to evolve capabilities
M&A Strategists – to identify capability gaps and create a corporate development plan to bridge the gaps
Vendor management teams – use capabilities as building blocks to evaluate vendor functionality.
Why should we pay for a capability model when we can do it ourselves?
The cost for an enterprise license is about a) a Steak dinner without wine for a small team, or b) 3 hours of a moderately priced consultant's time, or c) the occupancy cost of the conference room in a downtown setting over several sessions. Phew! Do you agree that the Finantrix banking capabilities map is the best deal in town? Yes, you are welcome!
Retail Bank Business Capability Model
$999 – $2,999