IT Strategy for the Digital Age
$10 – $75
Product Description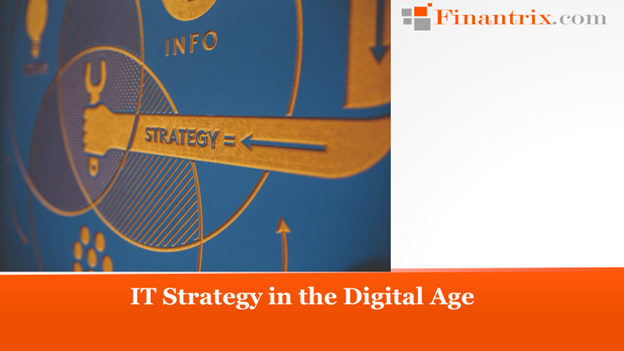 IT Strategy for the Digital Age is a conceptual overview, a strategic briefing that outlines how digital is changing the business and IT landscape, and provides a playbook for how IT Strategy must also change with the times. The IT Strategy for the Digital Age is also a playbook and a template on how to craft a compelling IT Strategy and Plan.
Why digital warrants a new kind of IT Strategy?
Historically, the realm of IT was deemed as a "service provider" Now, with the advent of a wave of digital technologies, robust tools, and practical methodologies, the role of IT has transformed to being a strategic partner. Today, the purpose of IT is to drive business agility, be a catalyst for technology-driven business innovation, and facilitator of new business models. Hence, the IT leaders have to craft digitally savvy IT strategies and Roadmap that helps the financial services enterprises survive and thrive in the digital revolution.
What is changing the way IT operates?
Unless one has been living under a rock, the wave of digitalization is a megatrend and a fundamental paradigm shift that has shaken the foundation of IT. Technologies spanning social, mobile, analytics, cloud, IoT (Internet of things) have had a significant effect on companies new and old, and big and small. Methodologies like DevOps have blurred the lines between development and deployment. Concepts like APIs, Containers, As-a-Service offerings have contributed to IT shedding a lot of the old baggage.
What does the IT Strategy for the Digital Age Concept Briefing and Playbook deliverable include?
Includes a summary of critical internal and external drivers which are transforming the IT function such as changes in business strategy, operating models, digital technologies et al.
A review of where IT currently succeeds and falls short in serving business needs, and how IT can once again become a catalyst.
A future-state vision for IT, including the necessary IT Strategy tools and frameworks to achieve this vision.
A sample IT Strategy roadmap, including a step-by-step guide on how to approach each key component in the framework.
What does one get from the IT Strategy in the Digital Age – Guide and Playbook include?
~70 information-rich PowerPoint slides
A broad overview of the IT strategy imperatives and practical ways to incorporate ideas into your IT Strategy.
What does it not include?
No primary research or original forecasts.
No in-depth vendor evaluations or rankings.
No quantitative business case.
How will the IT Strategy for Digital Age Guide and Template benefit BFSI firms?
Helps technology leaders understand the key factors underlying the need for a change in IT Strategy.
Compares the current assessment of the general IT department to your organization to identify where changes occur.
Helps utilize the IT Strategy approach as a basis for your own organization's IT Strategy deliverable including using slides and content that fits you and modifying the other portions to make it specific and relevant to your firm's profile.
IT Strategy in the Digital Age – A Guide and Template Content Outline:
IT, Historically Speaking
The IT Landscape is Changing
IT Transformation Imperatives
Business Strategy is Changing
Where IT Succeeds
Where IT Falls Short
IT is Slowly Adapting to Changes
Current State of IT Strategy
The Future State of IT
Future-State IT Vision
Planning IT Strategy
Who should buy the IT Strategy planning guide and template?
Finantrix's IT Strategy Guide should benefit anyone who is responsible for developing IT strategy, IT Operating Models, and execution plans such as:
CIOs and IT leaders
Enterprise architects
IT Professionals
Stipulations:
As the IT Strategy for the Digital Age is a digital product, Finantrix will not accept any returns
Depending on the size and complexity of your firm, the IT operating model, and the state of IT Practices some or all of the ideas may not be relevant to you.
Consultants, who may wish to use the deliverable at several clients, have different terms and price.
Sold on an as-is basis and no warranties
This sale does not include implementation help or support. If you need professional services assistance, please contact us.
Please review our standard terms of service.
Got More Questions? Drop us a Line
Need Customization Help? Contact Us our Advisory Services
IT Strategy for the Digital Age
$10 – $75