P&C Insurance Policy Administration Software Features and Functions
$499 – $1,299
Product Description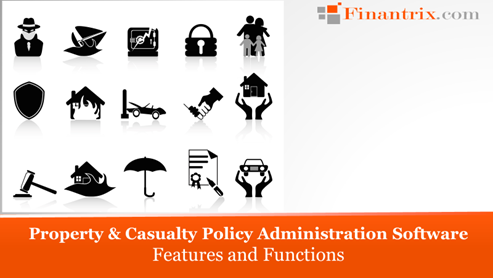 Property and Casualty (P&C) Insurance Policy Administration Software Features and Functions is a deliverable for business and technology executives at Property and Casualty insurers who are embarking on transforming legacy systems and antiquated processes. The insurance policy administration systems features and functions list will help project teams in understanding the depth and breadth of the capabilities of policy admin and related services. This, in turn, helps in creating a roadmap and evaluating policy admin systems vendors. With the digital revolution and the InsurTechs unbundling various aspects of the insurance value chain, it is a strategic imperative for insurance firms to upgrade their systems and improve their processes. And Finantrix policy administration software features and functions is a springboard in this endeavor.
What is the P&C Insurance Policy Administration Software Features and Functions deliverable?
The deliverable is a spreadsheet with about ~150 essential features and functions of a best-in-class policy admin system. These features are in a logical and hierarchical grouping.
The P&C Policy Management features list is mostly a list of critical capabilities and considerations necessary to transform the function in the digital age.
What does it not include?
No detailed business requirements. (There is a separate deliverable which features transformation business requirements.)
No technical and architectural features.
Why are re-engineering processes and re-platforming policy administration important for insurers?
Today, the insurance sector is in the throes of massive disruption. From changing consumer expectations to a new wave of startups and established tech giants, P&C insurance firms are facing severe pressures. Insurers need to rethink, re-imagine, and renew for the digital age.
Understanding the essential capabilities and features that are the foundation of policy administration and management will help in crafting a pragmatic and actionable roadmap.
From giant multiline insurers to niche specialty players, every insurance company needs to evolve to survive and thrive.
What features and functions are a part of the P&C Policy Admin Software Features deliverable?
Policy Admin Transformation Features and Functions deliverable consists of about ~150 capabilities essentials to a best-in-class system. They encompass:
Administration and configuration
Rating, Quoting, and Binding
Endorsements and Riders
Renewal Management
Policy Issuance
Forms and Correspondence
Policy Record
Premium Accounting
Policy Servicing
And many more areas decomposed in-depth
Who should use the P&C Insurance Policy Administration Features and Capabilities deliverable?
Business executives who are driving insurers' transformation
Technology leaders who are responsible for enabling the core systems
Business and Enterprise Architects who envision the core insurance solutions
What are the use cases of the Policy Admin Software Features deliverable?
Gain a holistic perspective of policy administration functions
Map features and functions to a capability model (each capability maps to multiple elements, and some may have many to many relationships)
Use the features list to create a policy admin system vendor RFP (Request for Proposal)
Use the list of features and functions to evaluate policy administration software vendors (Whether a system like GuideWire, Duck Creek, Majesco, Fineos or many other vendors depends on the specific needs of the insurer.)
Stipulations:
As the Policy Administration Software Features and Functions List is a digital product, Finantrix will not accept any returns
Depending on the size and complexity of your insurance firm, and specific products and services and customer segments, some or all of the features may not be relevant to you.
Consultants, who may wish to use the deliverable at several clients, have different terms and price.
Sold on an as-is basis and no warranties
This sale does not include implementation help or support. If you need professional services assistance, please contact us.
Please review our standard terms of service.
Got More Questions? Drop us a Line
Need Customization Help? Contact our Advisory Services
P&C Insurance Policy Administration Software Features and Functions
$499 – $1,299